Do you have a flea infestation?
We can stop the difficult flea cycle.
 Fleas from our pets can be difficult to eliminate and can become problematic to you, your pets and your family.
Why are Flea Infestations so Hard to Eliminate?
Fleas problems often occur during prolonged periods of wet weather or when a host animal has been absent. Cat and dog fleas periodically jump on and off the host. The removal of the host can cause fleas to bite the first warm-blooded animal, including humans. Walking across the floor can also trigger the emergence of new adults from pupae, causing the infestation to worsen. It is important to get the infestation under control as soon as possible and done professionally.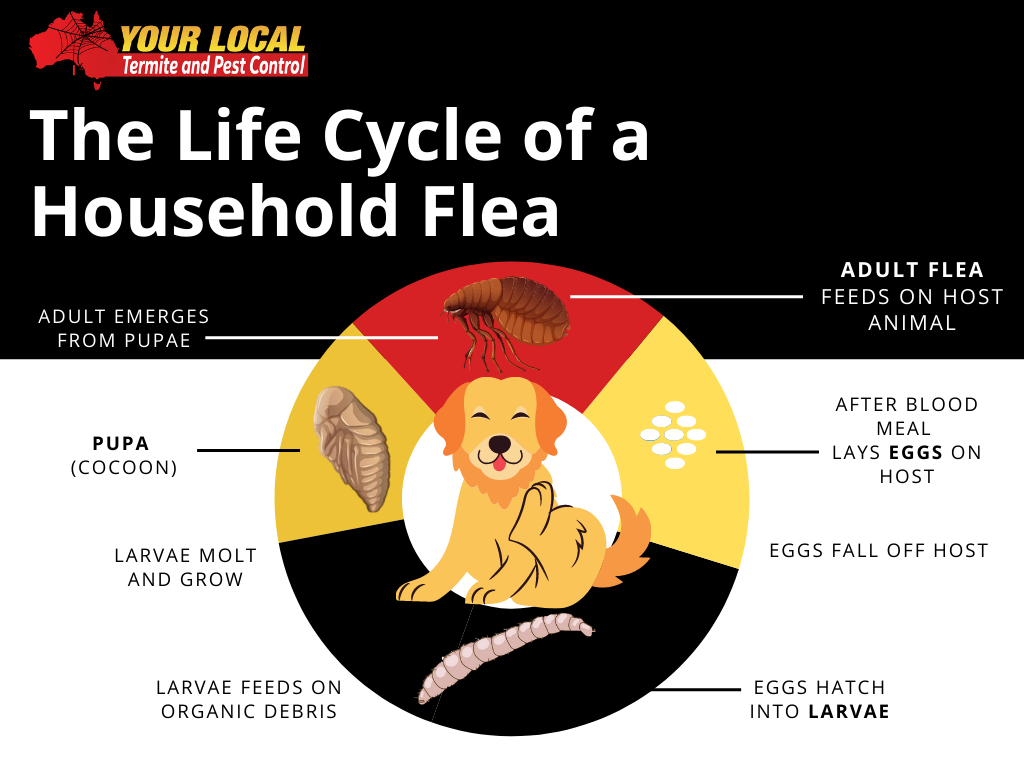 The Flea Cycle
Cat and dog fleas periodically jump on and off the host. Female adult fleas lay eggs, usually on the host, however, the eggs do not always attach to the host and can fall off. The eggs then can develop into larvae, on the floor or in the pet's bed. Sometimes treatments can appear to be ineffective due to visible small black fleas. Fleas will continue to hatch as insecticides can not penetrate flea pupae cases.
What to do before and after your Flea Treatment with Your Local Termite and Pest Control
1. Treat your Pet/s – In conjunction with Your Local Termite and Pest Control flea treatment. You will get better results if the environment and animal/s are treated around the same time.
2. Before treatment vacuum and mop, remove and dispose of the vacuum bag or empty bagless vacuum straight into the bin.
3. Do not leave flea infested areas undisturbed – movement hatches flea eggs – especially in spare rooms, sheds or places where your pet/s rest. Walkthrough all areas wearing white socks, tucked into long pants, this allows you to see the fleas as they try and bite.
4. Do not remove the pet, flea problems may appear to be worse – as you become the only potential host.
5. Entering vacant houses will stimulate any fleas waiting to hatch. This is especially a problem with the vacant rental and holiday houses.
6. If you are going on holidays, have a friend stomp through the house/yard several times while you are away, especially on the day of your return – the fleas will hatch and die on the treated surfaces before you return.
7. Do not vacuum or mop at least 14 days after treatment.
8. Be Patient – Even if everything has been done correctly, you will still see newly hatched fleas, usually for several weeks.
Your 3 Month Warranty
Our Flea Treatments include a 3 Month internal warranty. If any re-infestations occur during this period, we will be happy to come back to retreat problem areas. T&C's Apply.
Find out more about how we treat pests…
WHAT PEST IS BUGGING YOU?
WE CAN HELP YOU
 We understand dealing with pests can be stressful, but there is no pest problem too big for us. Let us worry about the pests, while you get on with the rest.
By answering a few simple questions, we can help you, get rid of the pests bugging you.
 *All your information will only used for a quote or   booking.
Your Local Termite and Pest Control offer competitive rates and service all suburbs across Beenleigh, Brisbane, Logan, Ipswich and the Gold Coast areas
Call now

1800 556 225

to book in your Pest Control with one of our Your Local Pest Experts.